Partial Dentures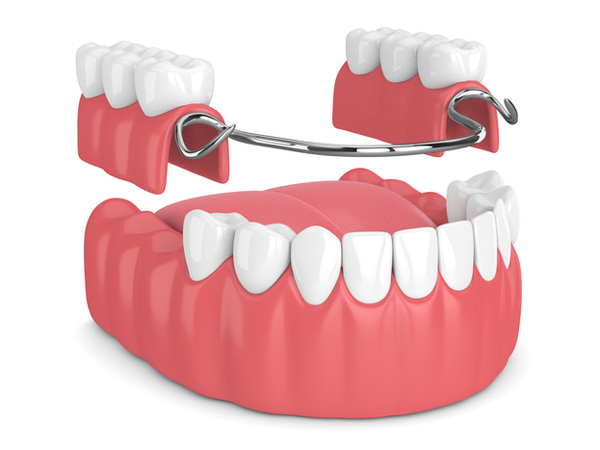 Damaged or missing teeth can severely affect your quality of life. Tasks that should be simple, such as eating and speaking, can be difficult if you have missing teeth. Depending on the location and number of missing teeth, getting removable partial dentures may be the right treatment option for you.

At St. Louis Prosthodontics, we understand the importance of proper oral health. We want our patients to have a healthy mouth so that they can go back to enjoying simple tasks that have become difficult. If you think you may need removable partial dentures, read on to get more information to make an informed choice.


What Are Partial Removable Dentures?

Dentures are an oral prosthetic that has existed in some shape or form for a long time. Some of the earliest dental prosthetics were dentures. Dental science and technology have come a long way in the past 50 years alone, so dentures have become a common and comfortable prosthetic for many patients.

Removable partial dentures consist of prosthetic teeth, a gumline made of synthetic material, and some sort of retaining bar or clasp to hold the device in place. The clasps are normally made of a resin material, while a retaining bar can be metal. The prosthetic teeth can be made of different materials depending on the patient's needs, often porcelain or ceramic.


Why Might Removable Partial Dentures Be Right for You?

Removable partial dentures are a viable option for patients who are missing some of their teeth. For example, if your lower molars are missing but your anterior teeth are still healthy, then you may want to get a set of removable partial dentures to replace your back molars and attach to the adjacent teeth.

Removable partial dentures are also a less costly and less invasive dental prosthetic. Implants can require several visits to the dentist, take longer to install, and initially cause pain after surgery. With removable partial dentures, you simply place the prosthetic in your mouth and attach it to your surrounding teeth. This may involve capping neighboring teeth so the dentures fit, but this is not always the case.

Removable partial dentures can also be modified if your oral health changes. If surrounding teeth go missing, you may be able to add them to your removable partial dentures depending on your circumstances.


What Is the Process for Getting Removable Partial Dentures?

The procedure to get this dental prosthetic is a relatively simple one compared to other procedures such as implants. First, talk with our team to make sure removable partial dentures are a good option for you. Then, our professionals will get a physical impression or digital scan of your mouth. This impression or scan is then sent to a lab where a prosthodontist will create the model for the prosthetic.

After the prosthetic is made, we will make sure it fits correctly and comfortably. Once this is established, just follow our advice on cleaning and maintaining your dentures.


Conclusion

You do not have to suffer from missing teeth; many options are available. Speak with our team today to find out if removable partial dentures are right for you. At St. Louis Prosthodontics, every patient is treated like family. Call us at 314-937-5487 and set up an appointment to get your oral health back on track.