Multiple Tooth Replacement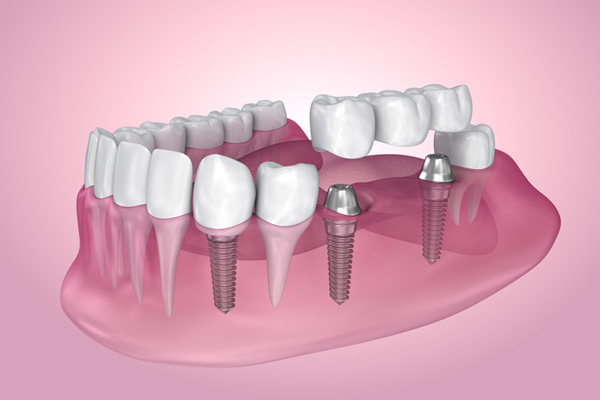 As the procedure sounds, a multiple tooth implant provides an artificial tooth solution for those patients who have suffered extensive tooth loss. This is not only a cosmetic procedure in that it corrects and improves their smile but a preventative one as well because it corrects jaw motion and chewing ability. A lost tooth is not simply just a vacated space where a tooth used to be but rather the start of decay and deterioration. If the teeth do not have opposing forces put on them by contacting a tooth in the opposing jaw, the jawbone will begin to deteriorate. When this happens, decay and potentially gum disease can set in, resulting in loss of bone mass.

The teeth adjacent to the vacated space will try and shift into the available space. This can create problems by changing biting surfaces and jaw motion as the mouth attempts to adapt to the movement of teeth. A multiple tooth implant can solve all of those problems and restore the lost teeth and maintain proper jaw functionality. Contact our offices at St. Louis Prosthodontics so we can formulate a treatment plan.


What is the Process?

For dental implants to be successfully placed, they need to have an adequate foundation. If the jawbone is too weak or has suffered too much loss of bone mass, grafting may be necessary in order to successfully complete the process.

Invasive in nature and sometimes painful, sedation dentistry techniques, utilizing either local or general anesthesia can help the patient be comfortable throughout the procedure. This is important so they do not flinch or react to pain or discomfort during the procedure because the implants are embedded directly into the upper and lower jaw.

Once in place, it will take time for the implant to completely fuse with the bone. After this happens, then the additional dental appliances can be applied to it and secured. This can include the use of bridges, dentures, and crowns and remains one of the most requested restorative procedures available.


Who Are Good Candidates?

For those patients who have suffered extensive tooth loss whether by not taking care of them, trauma or disease, the multiple tooth implant procedure is ideal. Permanent, the artificial teeth look and feel like natural teeth. They can help improve the patient's smile and overall oral cavity health. They will blend in and remain unnoticeable to family and friends. The procedure also keeps teeth in proper alignment and maintains the proper jaw motion.

Bone mass is important when talking about any dental implant procedure but even more so for a multiple tooth implant. If there is significant loss of bone mass, then grafts will be necessary to build it back up, so it is adequate to support the implants.

With healthy and supportive gum and bone tissue, the success rate of a multiple tooth implant procedure is greatly increased. If patients are looking for artificial tooth solutions, they should contact us today at St. Louis Prosthodontics to talk about all of the available options. We are available for phone consultations too at 314-937-5487. Give us a call today so we can schedule your assessment and talk about your treatment options.