Fixed Bridge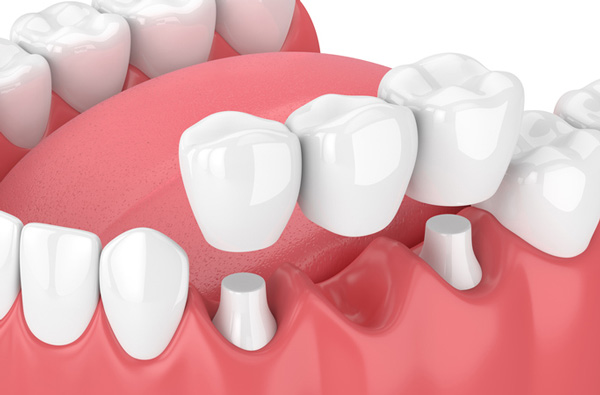 If you no longer have any of your teeth, whether on the top or on the bottom, then you are probably looking for an affordable solution that will not require you to get surgery after surgery or settle for clunky dentures. This becomes even more true if you have no teeth on the top or bottom arch in your mouth. What you want is a non-removable complete fixed bridge like the kind offered by St. Louis Prosthodontics.


Understanding Complete Fixed Bridges

Complete fixed bridges combine the best of several different pieces of dental technology. The most important part is what anchors the bridge — miniature metallic screws that we implant in your jaw, appropriately known as dental implants. Implants help keep your jawbone healthy through a process known as osseointegration. Similar solutions, such as dentures, can actually cause your jawbone to deteriorate further.

Traditionally, dental bridges are supported by filing down the teeth on either side, even if they are healthy. With a complete fixed bridge, we can preserve the health of these neighboring teeth by instead using implants. Finally, a complete bridge is a full-arch prosthetic, meaning that like dentures it can restore all of the upper or lower teeth. Unlike dentures, though, a fixed bridge is permanently attached to the implants so it cannot be removed.


How a Complete Fixed Bridge Can Help You

If you are missing a large number of teeth, or if you have a number of diseased or otherwise damaged teeth that need to be extracted, then a complete fixed bridge can be exactly what you need. We design these bridges to not only be extremely comfortable and permanent, but also incredibly lifelike. While different materials can be used, we prefer porcelain because it is strong and reflects light almost identically to natural teeth, so that no one will ever realize you are wearing a prosthetic. You can even clean your bridge just like you do the rest of your teeth. Brushing, flossing, and mouthwash are all you need to keep your bridge looking great, so no need for gunky cleaning solutions or removing your teeth every night. Plus, the fixed nature of the bridge means that it will never wiggle when you try to take a bite or speak.


What to Expect When Receiving a Complete Fixed Bridge

Getting a complete fixed bridge is not a rapid process, but it is a thorough and comprehensive one. It starts with the surgical placement of the implants themselves. This is usually a simple procedure, but healing can take many months because the implants must merge with your jaw. Next comes the placement of the abutments, which is the part that will support the actual bridge. When these are also finished healing you will be ready for the final step, when we permanently bond your bridge to the abutments.


The Preferred Full-Arch Solution

If you need a full-arch prosthetic, then you want the long-term durability of implants, the restorative powers of a complete bridge, and the stability and easy maintenance of a fixed prosthetic. To start your smile journey today, call St. Louis Prosthodontics at 314-937-5487!