Dental Implant Restoration

St. Louis, MO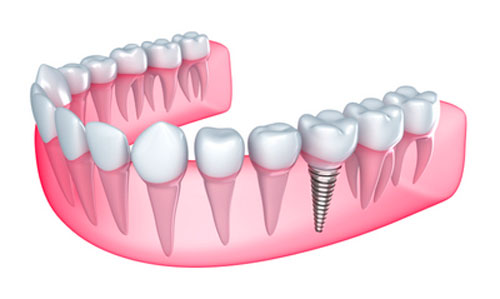 Dental implant restoration is a technique that replaces one or multiple missing teeth. At our St. Louis Prosthodontics clinic we attach a screw like post on your jawbone and leave it to fuse with your bone. After the fusing, we can place an artificial tooth, such as a crown. Single-tooth implants will work appropriately for people with one missing tooth, while those with multiple teeth require multiple tooth implants.


What is involved in Dental Implant Restoration?

The first step in dental implant restoration is properly examining your oral and general health. Our dentists conduct various diagnostic tests, such as blood checks and x-rays, to rule out any procedure risks. For instance, people with anemia require blood transfusion before dental implant surgery.

Once our dental team confirms you are eligible for dental implant installation, we begin the process. Local anesthesia is required since the procedure is invasive and might result in pain and discomfort. Once your gums are numb, we make small incisions to expose the jawbone. A drilling tool creates a space to place the implant posts. After anchoring them in the correct position, we stitch back the gums and leave the dental implants to fuse with your bone. After two months, we can then fix the artificial teeth.




Long-Lasting Solutions

Dental implants are made with strong and stain-resistant materials. For people looking for a permanent solution, implants are the ideal choice. When our dentists secure them on the gum, they will not shift or slip out of position, and you can comfortably chew food.


Resemble Your Natural Teeth

You don't have to worry about people finding out that you have artificial teeth. These solutions appear and function like your other teeth. We select a size and design that perfectly fits your gums. Customization ensures you are comfortable. Since they will fuse with your jawbone, they will be securely held in their position.


Proper Speech

You will have slurred speech when you have missing teeth or poorly fitted dentures. The implants allow you to speak and pronounce words confidently. You don't have to worry about them slipping in the mouth and interfering with your speech pattern.


Become More Confident

Missing teeth leave you with empty spaces in your mouth. When artificial teeth are not installed in time, it will cause your jawbone to reduce in volume and mass. Over time it can also affect your facial symmetry and give you an older appearance. Implants will enhance your oral health and ensure you feel beautiful.


Better Oral Health

Implants don't interfere with the health of your surrounding teeth. Other teeth are left intact, which ensures good oral health. Also, gaps in your jaw can leave open pockets that allow the penetration of bacteria. Such spaces become infected and may lead to gum disease.

Dental implants mimic your natural teeth and allow you to feel more confident. You can visit our St. Louis Prosthodontics clinic for superior dental implant restoration. Our world-class experience and knowledge ensure safe and correct installation. To book a consultation with our dental team, contact us at 314-937-5487.