Dental Crown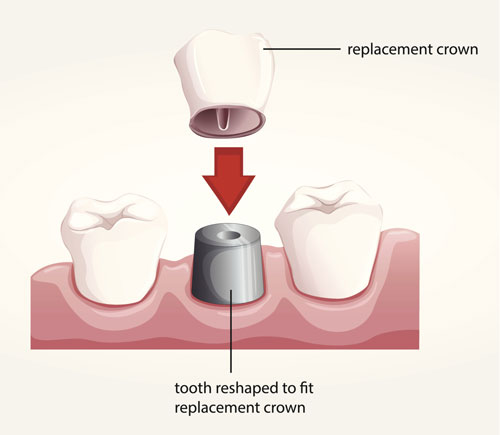 The top part of the tooth covered by the enamel is referred to as the crown. However, when a tooth chips, breaks, or fractures, the dental experts at St. Louis Prosthodontics can place an artificial crown to replace the one that's damaged. Dental crowns come in different colors and are composed of customized materials to fit perfectly on top of the tooth. Whether you prefer a gold, metal or silver-colored crown, we can customize it to suit your specifications. Crowns consist of porcelain, metals, ceramics, or composite resin, ensuring there's something for everyone. It's advisable to have our dental experts customize crowns for you to blend with the surrounding teeth. There are several different types of crowns available.


Porcelain-Fused-to-Metal Crowns

Metal and porcelain are heated together, creating a long-lasting bond commonly used to form dental bridges and crowns. Porcelain-fused-to-metal crowns are stronger than regular porcelain because they support a metal structure. We recommend this type of crown since they blend well with other teeth in appearance, shape, and function. This makes them an excellent solution for patients looking for something less conspicuous.


Metal and Gold Crowns

Metal crowns come in various colors and forms and usually comprise copper, gold, and other metals. They are resistant to fractures and provide a stronger bond, preventing teeth from wearing away. Some crowns are made of non-noble metals, guarantee durability and are free from corrosion. Before a crown is placed on the affected tooth, the tooth structure is slightly removed, conserving most of the tooth.


Stainless Steel Crowns (SSCs)

Crowns can be placed on patients of all ages, as long as they have a damaged tooth that can be treated via crown placement. When a baby has a damaged tooth, stainless steel crowns restore the primary teeth, especially after a filling or pulpotomy treatment has failed. Our expert dentist has experience dealing with children, ensuring your child's tooth is in top condition and free from further damage.


Cosmetic Crowns (Ceramic)

In dentistry, porcelain is usually used to create dental appliances that resemble natural teeth, such as cosmetic crowns. Most dental experts recommend cosmetic crowns as an alternative for an all-ceramic-crown metallic. They are also durable, strong, and not easily broken or chipped. This is why they are used to restore the front teeth, enhancing the patient's aesthetics.


All-Resin Crowns

These crowns are the least expensive compared to ceramic, metal, gold, and porcelain. Since they are more vulnerable to wear and tear fractures and chipping, we rarely recommend them to our patients. Resin is usually a fragile and thin material used to restore damaged or decayed baby teeth and not permanent ones.

Before placing crowns, patients need to regularly visit the dentist before the placement day. This provides you with sufficient time to gather all of the pertinent information about the procedure and to learn more about the available options suited for your dental needs. The experts at St. Louis Prosthodontics have experience in providing quality dental services, ensuring the placement is successful. Contact us today at 314-937-5487 and schedule an appointment with our dental experts.