Dental Bonding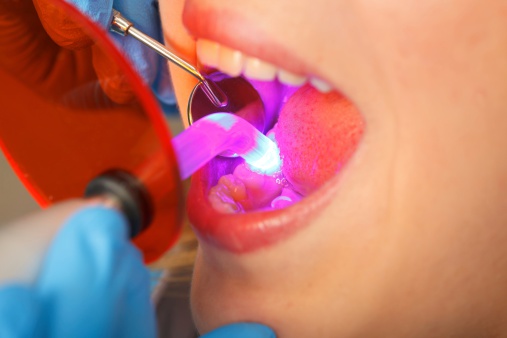 Teeth are naturally strong, making them effective in performing their purpose of chewing, smiling, talking, and even biting. Although teeth have a strong outer layer that protects them, they can still chip. When this happens, the experts at St. Louis Prosthodontics can help you restore the damaged teeth preventing further damage. An effective method for repairing damaged teeth is bonding, a cosmetic procedure. A cracked, chipped, or broken tooth can affect a person's appearance and even lead to severe oral health complications. That's why you need to consult a dental expert regularly to get ahead of potential dental complications.

Tooth bonding can also help patients with gaps between their teeth, discolored teeth or a shorter tooth. Composite resin is used to form the "bond" placed in the affected area, restoring the tooth. Unlike a crown used for a filling, our dentist ensures that the composite used for bonding is similar to the color of your teeth for a more natural appearance. Regardless of whether you are concerned about your smile or not, it's advisable to fix cracks and chips for optimal oral health.


Who Does Teeth Bonding Work Best For?

Teeth bonding is usually preferred for not severely damaged or decayed teeth. Patients who have lost most of their tooth, or if the entire tooth is decayed, are advised to consider dental implants which replace the entire tooth. This is also to ensure that the problem doesn't reoccur, causing more damage. That is why tooth bonding is recommended for minor injuries requiring extensive procedures.

If you appreciate the color of your teeth, then bonding is something you can consult your dentist about. However, if you plan on having your teeth whitened in the future, you should have the procedure performed before bonding. Bonding composite comes in a variety of shades, and the dentist will help you choose the one that's suitable for a natural-looking appearance. Whitening should not be done on teeth after bonding since the shade of the composite won't change.


What is Involved in Tooth Bonding?

Tooth bonding is a basic outpatient procedure that doesn't require the use of anesthesia unless there's another procedure like a filling or any other cosmetic procedure meant to alter the shape of your tooth. Anesthesia can also be used if the patient has a chipped tooth near the nerve, making the procedure painful.

The dentist will help you choose the right color of composite close to the shade of your teeth. Once the composite has been chosen, the dentist will proceed to make a composite resin applied on the rough surface of the bonding agent. This enhances its adhesiveness before it is dried using UV light. If it doesn't look like you expected it to begin with, you don't have to worry since the dentist will shape it after it dries.

Before having tooth bonding done, patients need to schedule regular visits to the dentist's office at St. Louis Prosthodontics to ensure they meet the health and dental requirements. Contact us at 314-937-5487 for dental services guaranteed to meet and exceed your expectations.