Complete Dentures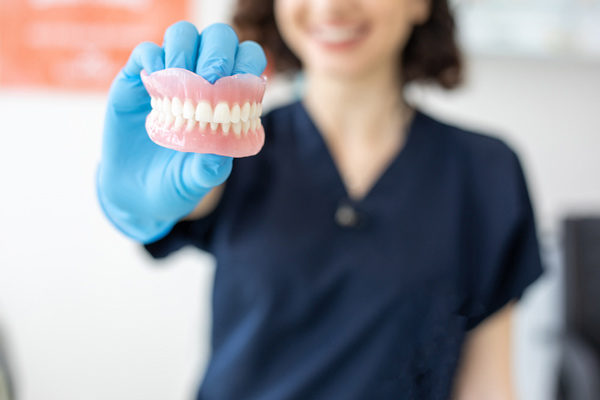 Many events can cause you to lose all your teeth on a single arch. Traumatic accidents, disease, and even aging can cause most or all of your teeth to fall out. Teeth are an important part of maintaining good health, allowing you to eat and digest the nutrients you need. Complete dentures are a practical solution to this problem.

At St. Louis Prosthodontics, we care about your oral health and provide several options for replacements and prosthetics. We work with each patient to make sure that they know what solutions are available to them at an affordable price. If you are missing all your teeth on your lower or upper arch, continue reading to see if complete dentures are the right choice for you.


What Are Complete Dentures?

Complete dentures are an oral prosthetic device that replaces all the teeth in a single arch. The prosthetic itself consists of two major components: the "teeth" and a synthetic material that resembles a gumline. The "gums" of complete dentures are placed over your existing gums and adhere with saliva or a dental paste. Many patients opt for a dental paste, as the dentures can move around when eating or speaking.

The teeth in complete dentures are usually made with nylon, acrylic, or metal. The teeth must be durable enough to not become damaged when performing routine tasks like eating.


What Are the Advantages of Complete Dentures?

One of the major advantages of opting for complete dentures is cost. Implant surgery is a more expensive but permanent solution for missing teeth. If your insurance will not pay for implant surgery, complete dentures may be a better option for you.

Another advantage of complete dentures is that it does not require any surgical procedures. If you get a fixed bridge or dental implants, a titanium screw is drilled into your jaw to attach the crown. These implants can take several months or even up to a year to finish. Complete dentures are ready to be used as soon as you receive them.

Complete dentures are removable, so this is less of a commitment than implants. If you do decide to get implants and they feel wrong, it can be expensive to get them modified for your comfort. If your complete dentures feel wrong, they are easily adjusted or modified.


What Is the Procedure for Getting Complete Dentures?

Since no surgery is involved to receive complete dentures, the procedure is a relatively simple one. First, speak with our team to determine if complete dentures are a healthy option for your circumstances. If complete dentures are a practical solution then our professionals will get an impression of your mouth, this may include a digital scan.

The scan or impression of your mouth is sent to a lab where a prosthodontist will create a 3D model for your dentures. The model should fit in your mouth comfortably and will look as natural as possible.

Our team will then instruct you on how to wear your dentures. They will also give you instructions on how to keep both your mouth and the dentures clean with proper oral hygiene.


Conclusion

Losing your teeth is never easy. It makes it difficult to perform daily functions that are vital to your health. If you think you may need complete dentures, call St. Louis Prosthodontics at 314-937-5487 to set up an appointment. Our team of dentists and specialists will work with you to get your natural smile back, letting you enjoy the benefits of superior oral health.