Benefits of Dental Implants

St. Louis, MO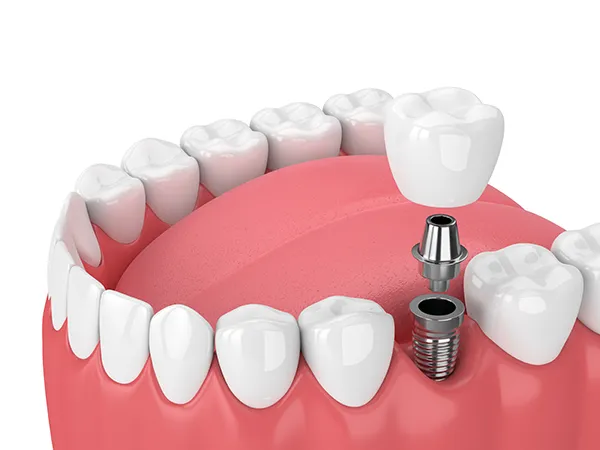 Do you have a missing or decayed tooth and wondering how you can replace it to have your smile back? Several tooth restoration methods are currently available in dentistry, with dental implants being considered the most popular one. The use of dental implants in restoring lost smiles has quickly gained popularity thanks to their affordability, simple procedure, and fewer side effects.

At St. Louis Prosthodontics one of our primary services is a dental implant. Our top dentists are specialists in dental implants and have years of experience restoring lost teeth. We have also invested in high-tech equipment to help our dentists in all of their dental implant surgeries.


Dental Implants

Dental implants mimic the entire tooth structure. The implant is made of titanium which integrates very well with the human body without any side effects. The implant is inserted into the jawbone and given some time to heal. A crown, denture, or bridge is later attached to the implant replacing the missing or decayed tooth completely. Dental implants feel, look, and act like natural teeth and can last a lifetime if well taken care of.


Benefits of Dental Implants

You are set to enjoy several benefits when you use dental implants to replace missing or decayed teeth. Here are some of the outstanding benefits:


Functions and Behaves Just Like Natural Teeth

Dental implants completely restore your full chewing ability. You will find it difficult to differentiate between the dental implant and your natural tooth. Just as you were chewing, biting, and talking with the natural tooth, it is the same way you will be doing with the dental implant.


Can Last a Lifetime

A dental bridge can last up to 10 years. Dental implants can last a lifetime if they are well taken care of and maintained. Dental implants are made using titanium. Titanium is known for its ability to integrate well with the jawbone.


Helps in Preventing Bone Loss

Loss of bone can occur when you stay without the tooth roots for a long time. The space will always deteriorate when there is no stimulation. When you undergo a dental implant procedure, the implant will replace the tooth root restoring your chewing ability.


Dental Implant Restoration

Dental implant restoration is a procedure where an artificial tooth replaces a missing or decayed natural tooth. The implant restoration procedure entails attaching the implant to the jawbone. A crown, denture, or bridge will be placed to take over the functions and position of the missing tooth.


Who Are the Right Candidates for Dental Implants?

Do you have a missing or decayed tooth that is beyond repair? Do you have a healthy jawbone and are free from hard-to-heal diseases like diabetes and pneumonia? Then you are a candidate for dental implants. Dental implants can be performed on individuals of any age as long as they have a healthy jawbone, do not smoke, and do not have any hard-to-heal diseases.

At St. Louis Prosthodontics our experienced dentists always take the time to fully examine a patient's dental condition before they begin a dental implant procedure. Schedule a consultation today by calling 314-937-5487.